Game Description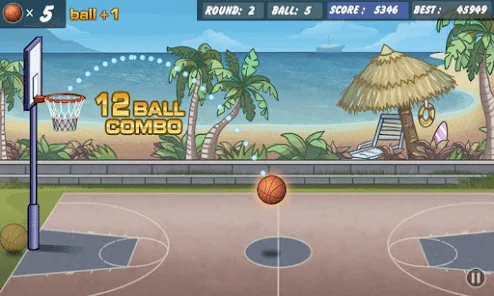 Basketball Shooter is an exciting basketball-themed game that challenges your aiming skills and precision. This game, developed by an innovative team of game developers, immerses players in the world of basketball shooting, where the goal is to score as many baskets as possible within a limited time. Experience the thrill of sinking those perfect shots and racking up high scores in this addictive basketball game.
Game Controls
Mastering the controls of Basketball Shooter is simple and intuitive:
Mouse (PC and Mac): Use your mouse to aim the basketball. Click and hold the left mouse button to adjust the power, and release to shoot.
Touchscreen (Mobile Devices): On mobile devices running iOS or Android, tap and drag to aim, and release to shoot the basketball.
How to Play Basketball Shooter?
In Basketball Shooter, your objective is to score as many baskets as you can within the time limit. Here's a step-by-step guide on how to play:
Launch the Game: Start by launching Basketball Shooter on your chosen platform.
Aim Your Shot: Use your mouse or touchscreen to aim the basketball at the hoop. Take into account the distance and angle.
Adjust the Power: Click and hold (or tap and drag) to adjust the power of your shot. A longer hold results in a stronger shot.
Release to Shoot: Release the mouse button (or your finger) to shoot the basketball. Time your release carefully for accuracy.
Score Points: Successfully making a basket earns you points. The farther the distance, the more points you'll earn.
Beat the Clock: You have a limited amount of time to score as many baskets as possible. Keep an eye on the countdown timer.
Rack Up High Scores: Strive to beat your own high score or compete with friends to see who can achieve the highest score.
Tips and Tricks
To become a master at Basketball Shooter and consistently score high, consider these tips:
Aim Carefully: Take your time to aim your shots accurately. Precision is key to hitting the hoop.
Adjust Power: Learn to gauge the right amount of power for different distances. Practice controlling the power of your shots.
Time Your Shots: Pay attention to the timing of your releases. A well-timed release increases your chances of making a basket.
Focus on Consistency: Strive for consistent shooting techniques to build a streak of successful baskets.
Use the Backboard: When shooting from certain angles, aiming for the backboard can help you make the basket.
Master the Bounce: Experiment with bounce shots, where the ball hits the ground before going into the hoop, for extra points.
Game Developer
Basketball Shooter was developed by a talented team of game developers who specialize in creating engaging and addictive gaming experiences.
Game Platforms
Basketball Shooter is available on various platforms to accommodate different types of players:
PC and Mac: Play the game on computers running Windows or macOS for a full gaming experience.
Mobile Devices (iOS and Android): Basketball Shooter is optimized for touchscreen gameplay on smartphones and tablets, allowing you to enjoy the game on the go.
How to Play Unblocked
As of my last knowledge update in September 2021, you can typically access Basketball Shooter on gaming websites that offer unblocked games. A straightforward online search for "Basketball Shooter unblocked" should lead you to websites where you can enjoy the game without restrictions. Always exercise caution and ensure that you obtain games from reputable sources to guarantee a safe and enjoyable gaming experience.