Game Discription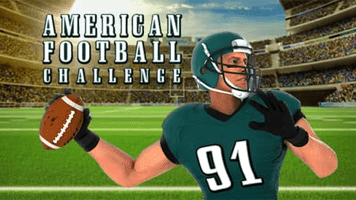 American Football Challenge is an electrifying sports game that puts you in the cleats of a football quarterback. Developed by experienced game creators, this game offers an immersive experience for gridiron enthusiasts. In this article, we'll delve into the game's controls, how to play, and share some essential tips and tricks to excel on the virtual turf.
Game Developer
American Football Challenge is brought to you by a talented team of developers who have a passion for sports and gaming. They have meticulously crafted this game to capture the essence of American football, making it an addictive and challenging experience.
Game Platforms
American Football Challenge is designed for web browsers and is also available on mobile devices, including iOS and Android. Whether you prefer to play on your computer or on the go with your smartphone or tablet, you can enjoy the excitement of American football right at your fingertips.
Game Controls
Mastering the game controls is crucial to becoming a successful quarterback. Here's a breakdown of the controls:
Keyboard Controls
Spacebar: Snap the ball.
Mouse: Aim your throw by moving the cursor.
Left Mouse Button: Release to throw the ball.
Hold Left Mouse Button: Charge your throw for increased power.
Mobile Controls
Tap: Snap the ball.
Swipe: Aim your throw.
Release Swipe: Throw the ball.
How to Play American Football Challenge?
In American Football Challenge, your objective is to complete passes to receivers down the field. Here's a step-by-step guide on how to play:
Snap the Ball: Press the spacebar (keyboard) or tap the screen (mobile) to snap the ball and begin the play.
Aim Your Throw: Use the mouse (keyboard) or swipe (mobile) to aim your throw. Pay attention to the moving target indicator that represents your receiver.
Release to Throw: Release the left mouse button (keyboard) or release your swipe (mobile) to make the throw. The longer you hold, the more powerful the pass.
Complete Passes: Your success depends on your accuracy and timing. Complete passes to earn points and progress through the game.
Win Trophies: As you rack up points, you'll earn trophies and move up the leaderboard.
Tips and Tricks
To dominate on the virtual gridiron, keep these tips in mind:
1. Precision Over Power
Focus on accuracy rather than throwing with maximum power. A well-placed pass is more likely to be caught.
2. Watch the Wind
Pay attention to the wind direction and speed, as it affects the trajectory of your throws.
3. Time Your Throws
Anticipate your receiver's movements and release the ball at the right moment for a successful completion.
4. Complete Challenges
Take on different challenges in the game to improve your skills and earn rewards.
5. Upgrade Your Skills
Use your earned trophies to unlock upgrades that enhance your quarterback abilities.
Now that you're equipped with the knowledge of the game controls, how to play, and some pro tips, it's time to hit the virtual gridiron and showcase your quarterback skills in American Football Challenge. Whether you're a die-hard football fan or just looking for some gaming excitement, this game promises hours of entertainment and fun. So, get ready to snap the ball and lead your team to victory!