Game Description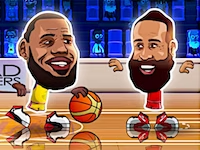 Dribble, shoot, and slam dunk your way to victory in Basketball Legends. This thrilling basketball game invites you to showcase your skills on the court. Developed by a team of talented game developers, it offers an electrifying experience where you can play as legendary basketball stars or your favorite teams. Score points, pull off jaw-dropping moves, and dominate the hardwood.
Game Controls
Mastering the controls of Basketball Legends is essential to becoming a basketball virtuoso:
Player 1 (PC):

Move: Arrow keys
Shoot/Block: X
Super Action: Z
Pass/Stea: C

Player 2 (PC):

Move: WASD
Shoot/Block: K
Super Action: L
Pass/Steal: O
For mobile devices:
Player 1 (Touchscreen): On the left side of the screen, use the virtual joystick to move. On the right side, tap the respective buttons for shooting, super action, passing, and blocking.
Player 2 (Touchscreen): Use the same controls on the right and left sides of the screen for Player 2's movements and actions.
How to Play Basketball Legends?
In Basketball Legends, your goal is to outscore your opponent within the time limit. Here's a step-by-step guide on how to play:
Choose Your Team: Begin by selecting your favorite basketball team or legendary players.
Select the Game Mode: You can play in single-player mode against the computer or challenge a friend in two-player mode.
Control Your Player: Use the specified controls to move your player, shoot, pass, block, and perform super actions.
Score Points: Dribble, pass, and shoot the ball to score points. Different players have unique abilities and playing styles.
Defend Your Basket: Block your opponent's shots and steal the ball to prevent them from scoring.
Utilize Super Actions: Each player has a special super action. Use it strategically to gain an advantage.
Win the Game: The team or player with the most points when the timer runs out wins the game.
Compete in Tournaments: Engage in tournaments and championships to become the ultimate basketball legend.
Tips and Tricks
To become a basketball legend in Basketball Legends, consider these tips:
Learn Player Abilities: Familiarize yourself with the abilities of each player or team you choose. They have strengths and weaknesses that can affect your strategy.
Use Super Actions Wisely: Timing is crucial when using super actions. Use them at the right moment to turn the game in your favor.
Defensive Skills: Master defensive moves like blocking and stealing to disrupt your opponent's plays.
Teamwork: If playing with a teammate in two-player mode, communicate and coordinate your moves for effective teamwork.
Practice: Regular practice will improve your skills and understanding of the game's mechanics.
Game Developer
Basketball Legends was developed by a talented team of game developers dedicated to delivering captivating sports gaming experiences.
Game Platforms
Basketball Legends is available on multiple platforms to ensure that basketball enthusiasts can enjoy it to the fullest:
PC and Mac: Play the game on computers running Windows or macOS for an immersive gaming experience.
Mobile Devices (iOS and Android): Basketball Legends is optimized for touchscreen gameplay on smartphones and tablets, allowing you to experience basketball excitement on the go.
How to Play Unblocked
As of my last knowledge update in September 2021, you can typically access Basketball Legends on gaming websites that offer unblocked games. A straightforward online search for "Basketball Legends unblocked" should lead you to websites where you can enjoy the game without restrictions. Always exercise caution and ensure that you obtain games from reputable sources to guarantee a safe and enjoyable gaming experience.