Game desciption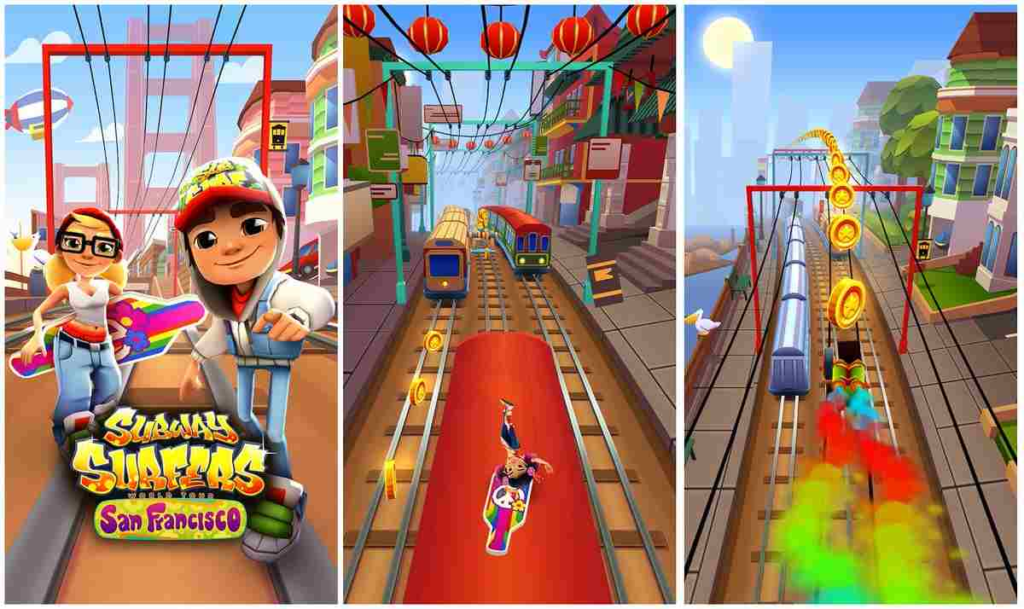 Join the worldwide phenomenon of endless running with Subway Surfers! This iconic mobile game has captured the hearts of millions with its fast-paced gameplay, stunning visuals, and exciting challenges. Get ready to dash through the subways, evade the inspector and his dog, and collect coins and power-ups. In this article, we'll explore Subway Surfers in-depth, covering everything from game controls to expert tips and tricks.
Mastering the Controls: Navigating the Urban Jungle
Subway Surfers offers simple yet responsive controls that are easy to pick up. Here's a breakdown of the essential controls:
Swipe Up: Jump over obstacles and onto platforms.
Swipe Down: Roll under barriers and through tunnels.
Swipe Left/Right: Switch lanes to avoid oncoming trains or obstacles.
Swipe Left/Right Twice: Perform a quick double swipe to change lanes rapidly.
Tap: Use this to activate hoverboards and collect power-ups.
How to Play: Diving into the Subway Chaos
Start Running: As the game begins, your character, usually Jake, starts running automatically. Your primary goal is to keep them running as far as possible.
Collect Coins: Swipe left and right to navigate through the subway, collecting gold coins along the way. These coins are crucial for purchasing upgrades and unlocking new characters.
Avoid Obstacles: Jump over barriers, roll under obstacles, and switch lanes to avoid oncoming trains and other hazards.
Grab Power-Ups: Keep an eye out for power-ups like jetpacks and sneakers. These provide temporary boosts to help you cover more ground and collect more coins.
Use Hoverboards: Activate hoverboards for temporary protection and additional coin collection. They also allow you to crash into obstacles without ending your run.
Complete Missions: Achieve daily and weekly missions to earn additional rewards and increase your score multiplier.
Collect Keys: Gather keys to unlock mystery boxes, which contain valuable prizes.
Stay Ahead of the Inspector: The relentless inspector and his dog will chase you. Don't get caught, or your run will end.
Upgrade Characters: Use the coins you've collected to purchase upgrades and unlock new characters, each with unique abilities.
Tips and Tricks: Navigating the Subway Like a Pro
Boost your Subway Surfers skills with these expert tips:
Focus on Objectives: Complete missions to earn more coins and keys.
Upgrade Wisely: Prioritize upgrading power-ups and hoverboards for longer runs.
Character Abilities: Experiment with different characters to take advantage of their unique abilities.
Hoverboard Savvy: Use hoverboards strategically, especially in challenging sections.
Collect Mystery Boxes: They often contain valuable prizes and power-ups.
Watch Out for Special Events: Participate in limited-time events for exclusive rewards.
Behind the Scenes: The Developers
Subway Surfers was developed by Kiloo and SYBO Games. Their dedication to creating an engaging and dynamic endless runner game has made Subway Surfers a global sensation.
Available Platforms: Where to Catch the Subway Action
You can enjoy Subway Surfers on various platforms:
iOS: Download it from the App Store for your Apple devices.
Android: Find it on the Google Play Store for your Android devices.
Unleash Your Endless Running Skills: Play Unblocked
Join the endless running craze with Subway Surfers, and take your skills to new heights. Whether you're a casual gamer or a competitive runner, this game offers endless excitement and challenges, unblocked and ready for you to conquer.
So, grab your hoverboard, avoid the inspector's grasp, and embark on a subway adventure like no other with Subway Surfers!