Game Description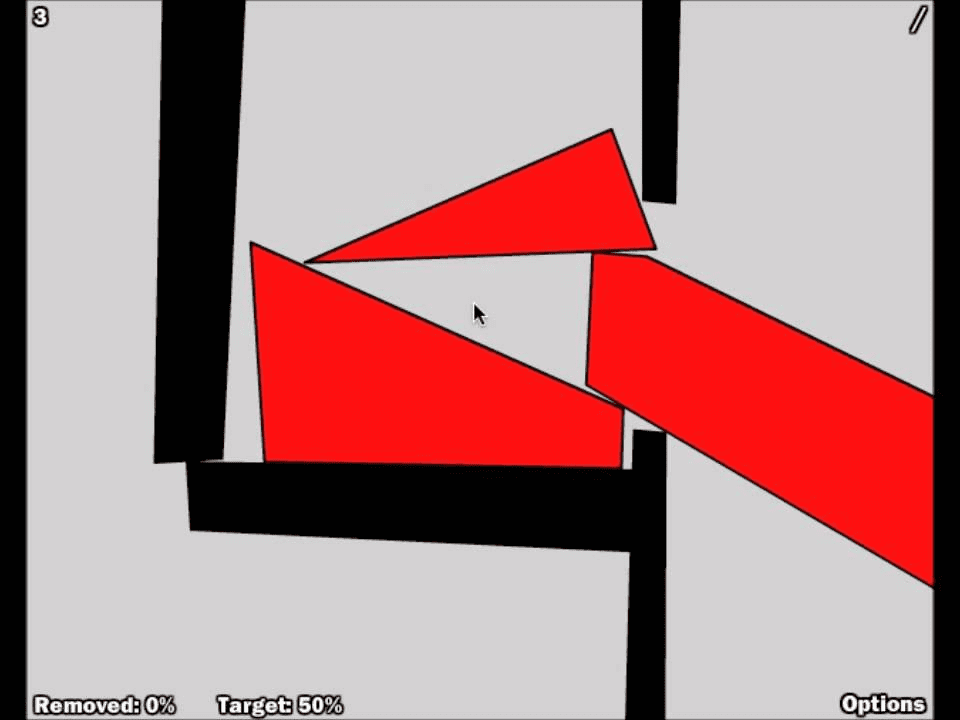 3 Slices is a delightful puzzle game that challenges your spatial reasoning and slicing skills. Developed by Gaz Thomas, this game presents players with various shapes made of blocks and tasks them with slicing these shapes into equal parts using a limited number of cuts. With its simple yet addictive gameplay, 3 Slices offers hours of brain-teasing entertainment.
How to Play
In 3 Slices, your objective is to divide given shapes into equal parts. Here's a step-by-step guide on how to play:
Launch the Game: Start by launching 3 Slices on your preferred platform.
Examine the Shape: Carefully observe the shape presented to you. It may consist of squares or irregular blocks.
Draw Cutting Lines: Utilize your mouse or touchscreen to draw lines that will slice through the shape. Remember that you have a limited number of cuts at your disposal, so use them wisely.
Achieve Equal Parts: Your primary goal is to create equal parts with the cuts you make. Ensure that the shape is divided evenly.
Complete the Level: Once you've made your cuts, the level will conclude. Your performance will be scored based on how effectively you divided the shape.
Progress Through Levels: As you advance through the game, you'll encounter progressively complex shapes and challenges that will test your slicing skills.
Tips and Tricks
To excel in 3 Slices and conquer its challenging puzzles, keep these strategies in mind:
Plan Ahead: Prior to making a cut, take a moment to strategize where you'll draw the line to achieve equal parts.
Experiment with Angles: Don't be afraid to experiment with cutting at different angles to attain balanced divisions.
Minimize Cuts: Since you have a limited number of cuts, aim to use as few as possible to complete each level efficiently.
Recognize Symmetry: Pay attention to any symmetry within the shape, as it often guides you toward the correct cutting strategy.
Think Creatively: Some levels may require unconventional cutting strategies, so don't limit yourself to straightforward cuts.
Game Developer
3 Slices was created by Gaz Thomas, a game developer renowned for crafting engaging and challenging puzzle games.
Game Platforms
3 Slices is accessible on various platforms, ensuring that players can enjoy the game in their preferred way:
PC and Mac: Dive into the game on computers running Windows or macOS for an immersive puzzle-solving experience.
Mobile Devices (iOS and Android): Whether you're using a smartphone or tablet, 3 Slices is optimized for touchscreen gameplay, allowing you to tackle puzzles on the go.
How to Play Unblocked
As of my last knowledge update in September 2021, you can typically access 3 Slices on gaming websites that offer unblocked games. A straightforward online search for "3 Slices unblocked" should lead you to websites where you can enjoy the game without restrictions. Nonetheless, always exercise caution and ensure that you obtain games from reputable sources to guarantee a safe and enjoyable gaming experience.