Game Description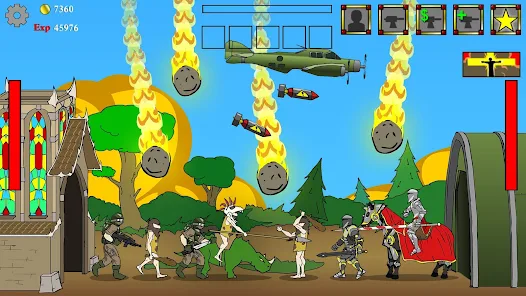 Age of War is an engaging strategy game that allows players to lead their civilization through various historical epochs, from the Stone Age to the Space Age. Developed by Max Games, this game combines strategy, resource management, and tactical warfare, offering an immersive journey through time and evolution.
Game Controls
Mastering Age of War is straightforward with these controls:
Mouse (PC and Mac): Utilize your mouse to interact with the game interface. Navigate menus, deploy units, and execute special attacks.
Touchscreen (Mobile Devices): On mobile devices running iOS or Android, tap the screen to access menus, deploy troops, and oversee your civilization.
How to Play Age of War?
Your objective in Age of War is to evolve your civilization and annihilate your adversary's base. Here's a comprehensive guide on how to play:
Select Your Epoch: Commence by choosing an epoch, initiating with the Stone Age. Each epoch presents unique units and technologies.
Resource Management: Collect resources, including gold and experience points (XP), by vanquishing enemy units and safeguarding your base. These resources are crucial for deploying units and researching novel technologies.
Deploy Units: Click or tap the deploy button to dispatch units into battle. Every epoch introduces its array of units, from rudimentary infantry to advanced war machinery.
Base Defense: Safeguard your base against enemy assaults. Losing your base results in defeat.
Evolve and Upgrade: As you accrue XP, you can advance to the subsequent epoch, unlocking mightier units and abilities. Enhance your units and fortifications to bolster your chances of victory.
Special Abilities: Each epoch boasts a distinctive special ability that can tip the scales of battle. Employ these abilities judiciously to secure an advantage.
Demolish the Enemy Base: Your ultimate aim is to obliterate the adversary's base. Concentrate your attacks on their base while defending your own.
Progress Through Epochs: Continue the progression of your civilization through the epochs until reaching the Space Age. Brace yourself for progressively formidable opponents.
Tips and Tricks
To assert your dominance across the ages in Age of War, contemplate these strategic pointers:
Strategic Equilibrium: Strike a balance between deploying units for base defense and launching offensives against the enemy base.
Economic Expansion: Prioritize resource generation and upgrades to augment your military might.
Timed Specials: Harness special abilities, such as healing or air strikes, with precision to gain the upper hand during pivotal moments.
Unit Diversity: Field a diversified unit composition to fulfill distinct roles and effectively counter the enemy's strategies.
Base Fortification: Devote attention to fortifying your base. Elevate its defenses to withstand enemy onslaughts.
Game Developer
Max Games is the mastermind behind Age of War, a game development studio acclaimed for crafting captivating and strategic gaming experiences.
Game Platforms
Age of War extends its availability across multiple platforms, catering to the preferences of diverse gamers:
PC and Mac: Engage in immersive gameplay on computers operating Windows or macOS.
Mobile Devices (iOS and Android): Age of War is meticulously optimized for touchscreen gaming on smartphones and tablets, enabling you to wage war while on the move.
How to Play Unblocked
As of my last knowledge update in September 2021, you can typically access Age of War on gaming websites offering unblocked games. A straightforward online search for "Age of War unblocked" should yield numerous websites where you can engage in gameplay devoid of restrictions. However, exercise caution and ensure that you obtain games from reputable sources to safeguard a secure and enjoyable gaming experience.