Game Description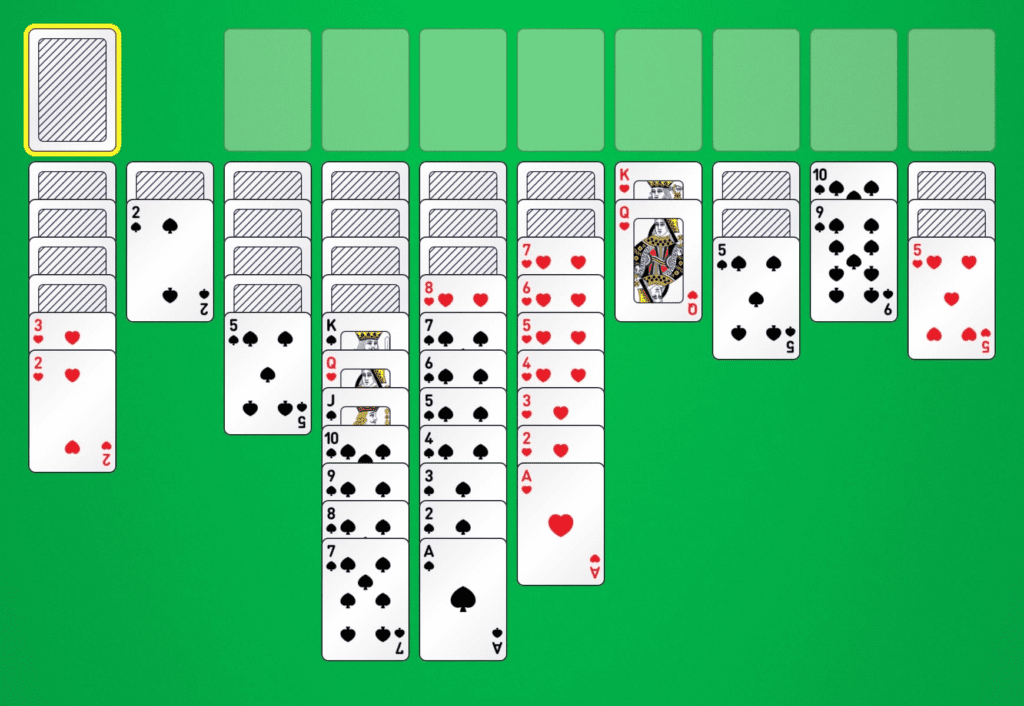 Spider Solitaire stands as a timeless card game that has captivated players across generations. Recognized for its intricate gameplay and requirement for strategic thinking, this digital adaptation guarantees hours of engaging entertainment. Whether you're a seasoned card player or new to the game, Spider Solitaire offers an immersive and gratifying experience.
Game Controls
The controls for Spider Solitaire are straightforward and intuitive, ensuring accessibility for players of all skill levels:
Mouse: When playing on a computer, use the mouse to drag and drop cards. Simply click on a card, drag it to the desired location, and release the mouse button to place it.
Touchscreen (Mobile Devices): On touchscreen devices such as smartphones and tablets, you can tap cards to select them and then tap your chosen destination for card placement.
How to Play Spider Solitaire?
Spider Solitaire employs a standard 52-card deck. The primary objective of the game is to arrange all the cards in descending order, from King to Ace, while simultaneously forming complete suits of cards (hearts, diamonds, clubs, and spades). Here's a step-by-step guide on how to play:
Start the Game: Launch Spider Solitaire on your selected platform. The game will deal cards into 10 columns.
Card Arrangement: Your goal is to organize the cards within the columns. You can move cards individually or as groups of sequentially descending cards. For example, you can move a 9 of hearts onto a 10 of hearts.
Creating Stacks: As you progress, aim to create complete stacks of cards in descending order. These completed stacks will be automatically removed from play.
Emptying Columns: Clearing all columns is your primary objective. Empty columns can be filled with any card or group of cards.
Dealing New Cards: If you find yourself stuck or in need of more cards to play, you can deal new cards from the remaining deck. Click on the deck in the upper left corner to deal one card to each column.
Victory: You achieve victory when you successfully create complete stacks of all suits, from King to Ace, in all 8 foundation piles.
Hints and Undo: Most versions of Spider Solitaire provide hints and offer the option to undo moves if you make an error.
Tips and Tricks
To enhance your Spider Solitaire skills and improve your chances of success, consider these strategic tips:
Plan Ahead: Before making a move, assess the potential to create complete stacks and open up new columns.
Empty Columns: Strive to clear columns as quickly as possible to provide more maneuvering space.
Sequence Building: Whenever possible, construct sequences of cards in descending order. This approach broadens your options for card movement.
Use Undos Sparingly: While it's tempting to undo every move, limit the use of the undo feature to maintain the challenge.
Exercise Patience: Success in Spider Solitaire relies on patience and thoughtful planning. Avoid rushing through the game; take your time to analyze each move.
Game Developer
The digital rendition of the game is commonly included as a standard feature in various operating systems and gaming platforms. Although numerous developers have created versions of the game, it is often associated with Microsoft.
Game Platforms
Spider Solitaire is accessible on a broad spectrum of platforms, encompassing:
Windows: It is frequently pre-installed as a game in Microsoft Windows operating systems.
Mobile Devices (iOS and Android): Numerous free and paid versions of Spider Solitaire can be found on app stores.
Online: Numerous websites offer browser-based versions of the game, playable on any device equipped with internet access.
Unblocked Version
Given that Spider Solitaire is a card game, it typically remains unblocked and readily available for online play. Players can indulge in the game on various websites without encountering restrictions or limitations. Conducting a simple online search for "Spider Solitaire" unveils a plethora of options to enjoy the game in your web browser without hindrance.
Challenge your card-playing skills and strategic thinking with Spider Solitaire today. Whether you are seeking relaxation at home or a mental respite at work, this timeless card game provides an ideal way to while away the hours while engaging your intellect.