Game Description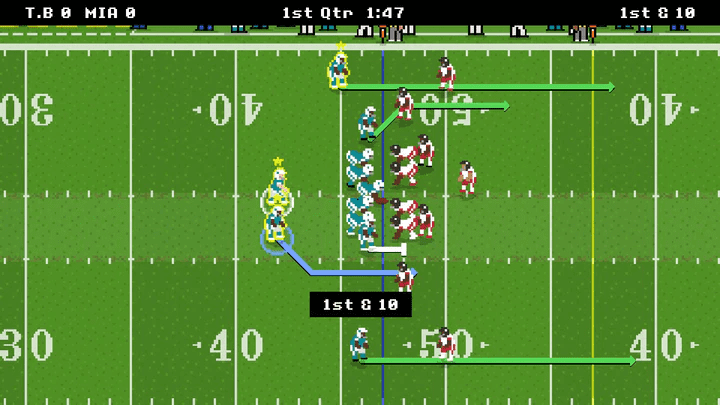 Step back in time and experience the thrill of football like never before in Retro Bowl. This fan-made masterpiece combines the charm of classic gaming with the intensity of football management, delivering an exhilarating gridiron experience.
Game Controls
Mastering the game controls is key to conquering Retro Bowl. Here's a quick breakdown:
Mobile Controls
Swipe Left/Right: Navigate menus and options.
Tap: Confirm selections, throw passes, and tackle opponents.
Swipe Up: Speed up gameplay.
Swipe Down: Slow down gameplay.
Swipe Up (During a Play): Execute a spin move or stiff-arm (if your player has the ability).
Swipe Left/Right (During a Play): Make lateral passes.
Keyboard Controls (On PC)
Arrow Keys: Navigate menus.
Spacebar/Enter: Confirm selections, snap the ball, throw passes, and tackle opponents.
S Key: Speed up gameplay.
D Key: Slow down gameplay.
A Key (During a Play): Execute a spin move or stiff-arm (if your player has the ability).
Q/W Keys (During a Play): Make lateral passes.
How to Play Retro Bowl Fan-made?
Diving into Retro Bowl is a breeze, but mastering it is a different story. Here's a step-by-step guide on how to play:
1. Assemble Your Team
Begin by creating your dream football team. Scout and sign players, keeping an eye on their attributes, potential, and contracts.
2. Play Games
Participate in league games, starting with the regular season. Use your play-calling skills to outwit opponents and lead your team to victory.
3. Manage Training
Train your players regularly to improve their skills. Balance practice time to enhance different attributes, from speed to throwing accuracy.
4. Make Contract Decisions
Manage player contracts wisely. Re-sign key players, negotiate new deals, or trade players to build a championship-caliber team.
5. Compete in Playoffs
Advance through the playoffs and strive for championship glory. Execute brilliant strategies to secure the Retro Bowl title.
Tips and Tricks
Mastering Retro Bowl requires strategy and finesse. Here are some invaluable tips and tricks to elevate your game:
1. Balance Training
Train players in a well-rounded manner, focusing on areas that need improvement. A balanced team performs better.
2. Optimize Play Calling
Mix up your play-calling to keep the opposition guessing. Don't be afraid to experiment with different offensive and defensive strategies.
3. Invest in Youth
Young players often have untapped potential. Scout and sign promising rookies to build a long-term powerhouse.
4. Manage Contracts
Budget your salary cap effectively. Prioritize re-signing star players, but avoid overpaying for declining veterans.
5. Watch the Clock
Time management is crucial. Learn to control the clock during games, particularly when leading in the fourth quarter.
Game Developer
Retro Bowl is a fan-made creation, crafted by dedicated and passionate developers who wanted to bring a unique blend of retro aesthetics and modern football management to gamers everywhere.
Game Platforms
This exciting football experience is available on mobile devices, including iOS and Android. Whether you're on the bus or lounging at home, you can immerse yourself in the world of Retro Bowl and prove your coaching prowess.