Description of Axis Football League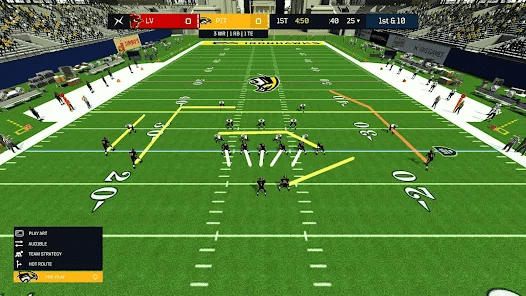 Axis Football League is a sports simulation game that allows players to step into the shoes of a football coach. The game offers a detailed and realistic football experience, with various game modes, customization options, and a wide range of teams to choose from. Whether you're a die-hard football fan or new to the sport, Axis Football League provides an engaging and enjoyable gaming experience.
Game Controls
Movement: Use the arrow keys to control your player's movement on the field.
Passing: To pass the ball, press the 'A' key. You can select your receiver by pressing the corresponding player's icon.
Running: To run with the ball, press the 'S' key.
Sprinting: Hold the 'D' key to make your player sprint for a burst of speed.
Tackling: On defense, use the 'A' key to tackle the ball carrier.
Switch Players: To switch control to a different player on defense, press the 'W' key.
Menu Navigation: Use the 'Enter' key to navigate through menus and select options.
How to Play
Axis Football League offers various game modes, including Exhibition, Season, and Playoffs. Here's a brief overview of how to play:
Select Your Team: Start by choosing your favorite team from the available options.
Game Mode: Pick the game mode you want to play, whether it's an exhibition match, a full season, or a playoff run.
Gameplay: Control your players using the keyboard controls mentioned above. On offense, your goal is to score touchdowns, while on defense, you aim to stop the opposing team from advancing.
Strategy: Use different offensive and defensive strategies to outwit your opponents. Customize your plays and formations to maximize your team's performance.
Progression: In season mode, your objective is to lead your team to victory throughout the entire season, while in playoff mode, you strive to win the championship.
Achievements: Unlock achievements and earn rewards as you progress through the game.
Tips and Tricks
Practice: Spend time practicing the controls and understanding the mechanics to improve your gameplay.
Study Your Opponent: Analyze your opponent's playing style to anticipate their moves and make strategic decisions.
Customization: Customize your plays and formations to suit your team's strengths and exploit your opponent's weaknesses.
Manage the Clock: In critical situations, manage the game clock effectively to secure a victory.
Game Developer
Axis Football League is developed by Axis Games, a game development studio known for creating sports simulation games that offer a high level of realism and player engagement.
Game Platforms
Axis Football League is primarily available on PC platforms, but it's worth noting that there are no official iOS or Android versions of the game. However, players can access the game through web browsers on their mobile devices, including iOS (iPhone and iPad) and Android smartphones and tablets. While it may not have dedicated mobile apps, you can still enjoy the game's web-based version on these mobile platforms for on-the-go football gaming.
Unblocked Version
To access an unblocked version of Axis Football League, you can search for websites that offer HTML5 or Flash game versions that are not restricted by web filters. Be cautious when downloading files from unofficial sources to ensure the safety of your device.
In conclusion, Axis Football League provides an authentic football gaming experience with realistic controls, strategic gameplay, and various modes to keep players entertained. Whether you're a football enthusiast or a casual gamer, this title offers hours of fun and competition.