Game description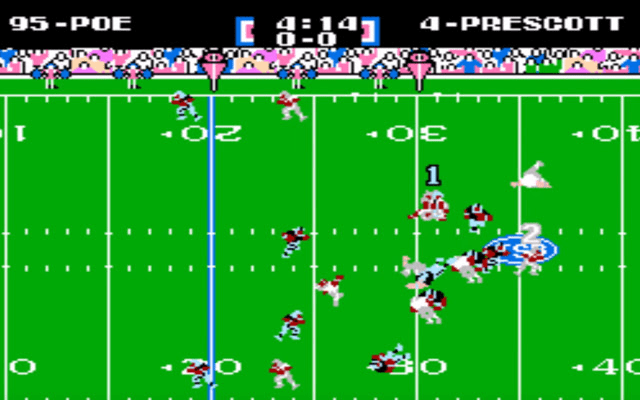 Experience the adrenaline-pumping excitement of American football with Tecmo Bowl, a timeless classic that has captured the hearts of gamers for generations. Developed by the esteemed Tecmo, this game takes you back to the glory days of 8-bit gaming, delivering pure gridiron action at its best.
Game Controls
Get ready to hit the virtual gridiron with these straightforward game controls:
NES Controls
Directional Pad: Move your player.
A Button: Select plays on offense, control the player with the ball on defense.
B Button: Speed burst on offense, initiate a dive tackle on defense.
Start Button: Start the game and pause during gameplay.
Select Button: Choose your plays and formations.
How to Play Tecmo Bowl?
Engage in the ultimate football showdown with these simple steps:
1. Choose Your Team
Begin by selecting your favorite NFL team from the available options. Each team comes with its unique strengths and weaknesses, so choose wisely.
2. Kickoff
The game kicks off with the coin toss. Win the toss to decide whether to receive or kick off. On offense, use the directional pad to navigate your player, and the A button to select plays.
3. Execute Plays
Once you've chosen a play, it's time to execute it. On offense, control your quarterback and pass or hand off the ball to your running back. On defense, control the player closest to the ball carrier and attempt tackles.
4. Score Points
The ultimate goal is to outscore your opponent. Execute plays effectively, avoid tackles, and make strategic passes to reach the end zone for touchdowns.
5. Play Defense
When you're on defense, tackle the ball carrier to prevent them from advancing. Intercept passes and block kicks to regain possession.
6. Manage the Clock
Pay attention to the game clock. Time management is crucial in Tecmo Bowl, so use your timeouts wisely.
Tips and Tricks
Hone your Tecmo Bowl skills with these pro tips:
1. Master the Playbook
Learn your team's playbook inside out. Each team has a set of unique plays that can give you an advantage.
2. Speed Matters
On offense, use the speed burst (B button) to outrun defenders. On defense, use it to close in on ball carriers quickly.
3. Pass Strategically
Don't force passes. Wait for your receivers to get open, and then make accurate throws to avoid interceptions.
4. Defensive Strategy
Mix up your defensive formations and player selections to keep your opponent guessing.
5. Be Patient
Tecmo Bowl rewards patience and precision. Take your time, read the game, and make smart decisions.
Game Developer
Tecmo Bowl, a beloved classic, was developed by Tecmo, a renowned video game company known for its sports titles. The game's timeless appeal has left an indelible mark on the world of gaming.
Game Platforms
Dive into the world of Tecmo Bowl on your preferred devices, as it's available on both iOS and Android platforms. Whether you're using an iPhone, iPad, or Android smartphone or tablet, you can experience the gridiron thrills wherever you go.